The might of the Starfleet Military Reserves rests in its warships. These ships have been designed specifically for combat and lack the exploratory requirements of the starships in Starfleet proper.
Standard systems on all new production vessels include: unobstructed bridge ceiling dome, control station emergency restraint force fields, control station EPS feedback surge arresting systems, redundant series shield generators, fractal pattern shield tranmsission grids, cloaking systems, and shipwide Emergency Holograms for Medical, Engineering, and Tactical.
Navigation through this database is provided with the compass pad below. North will always take you back to the main introduction of this database. West returns you to the Arsenal Ship Index. East prompts the next ship in line on the index, and South returns you to the initial page for that ship.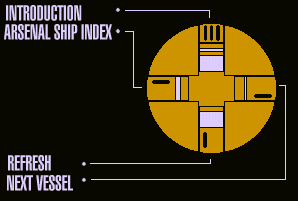 Registrations
All ships scheduled for constuction after stardate 62000.00 will be commisioned with the new registration system incorporating a letter prefix to the number. Those prefixes are :

NCC-B001 Battleships
NCC-C001 Cruisers (all weights)
NCC-F001 Frigates
NCC-D001 Destroyer/Escorts
NCC-SR001 Surveilance Reconniansance
Starship Categorization Tables
Starship Comparison Chart
Vessel Group


Category

Sub-category

Purpose

Mass Class

Rating

Explorer
Warship
Transport
Freighter
Armament
Defence
Combat

Speed

Battleship
W
1
heavy
heavy
low
Battlecruiser
W
1
heavy
moderate
moderate
Cruiser

Missile Cruiser

Advanced Tactical Cruiser

EWTF

W

W

1,2,3

3

2

moderate

heavy

heavy

moderate

moderate

heavy

moderate

fast

fast

Frigate

Carrier Frigate

W

W

2,3

2,3

moderate

moderate

moderate

moderate

fast

low

Destroyer

Assault Destroyer

Multipurpose Destroyer

W

W

W

3,4

3,4

3,4

heavy

heavy

configurable

moderate

heavy

moderate

fast

fast

fast

Escort
W
3,4
moderate
light
fast
Courier
ETF
3,4
light
moderate
moderate
fast
Gunship
W
4
heavy
light
fast
Runabout
ETF
4
light
light
moderate
Fighter
W
5
light
moderate
light
fast
Shuttle
TF
5,6
light
light
light
Mass Classes
0
Extreme Cruiser
1
Heavy Crusier
2
Cruiser
3
Light Cruiser
4
Starcraft
5
Shuttlecraft
6
Spacecraft
Starships are the main ships of the line that are not assigned to starbases and have medium to extreme duration between refurbishment. They represent the three types of cruisers.
Starcraft are smaller that light cruisers in metric tonnage and are often assigned to starbases and/or starships and have short to medium duration between refurbishment. Many transports and runabouts fall under this grouping. Some starcraft are even privaterly owned.
Shuttlecraft are smaller vessels assigned to starbases and starships having limited to medium duration between refurbishment.
Spacecraft are the smallest and the most dependant having a limited duration between refurbishment. Spacecraft must be refueled before or after each sortie and serviced at least once a day. These include travel pods, work pods, cargo sleds, warp sleds, probes, and other special equipment that generally does not accomodate more than one person.




Category

Class

Battleship
Galaxy
Indomitable
Battlecruiser
Akira
Ambassador
Chikara
Sovereign
Cruiser
Oberth / light cruiser
Prometheus / advanced tactical cruiser
Ranger / light cruiser
Tornado / missile cruiser
Frigate
Intrepid
Nimitz / carrier frigate
Steamrunner
Destroyer
Defiant
Derringer / assault destroyer
Rapier / multipurpose destroyer
Escort
Sabre
Gunship
Viper
Fighter
Bonzai
Peregrine
---