The Ron' Saier System is 32 lightyears from Sector 1 at the borders of the United Federation of Planets, The Klingon Empire, and the Romulan Star Empire. The Sun is spectral type G4 with seven planetary systems.
PLANET
RS I
RS II
Ron' Saier
RS IV
RS V
RS VI
RS VII
MASS Earths
3
.723
1.4688
94
320
15.6
2
ORBIT AUs
.472
.809
.9199
2.1
6.8
25
34.5
CLASS
E geo-metallic
K subterrestrial
M terrestrial
B gas giant
A gas supergiant
L outer gas giant
K subterrestrial
Ron'Saier was chosen not only for it location, but also for is comfortable climate. The planet's gravity is 1.02. Adverage temperature ranges from 37.3° F to 86.6° F with extreme temperatures ranging to -.21° F to 126.3° F. Climate ranges are near identicle to Earth, Qo'noS, and Romulus, affording training ranges planet wide for ground troops. The day is 45.4 hours long, with a year rounding out to 330 days.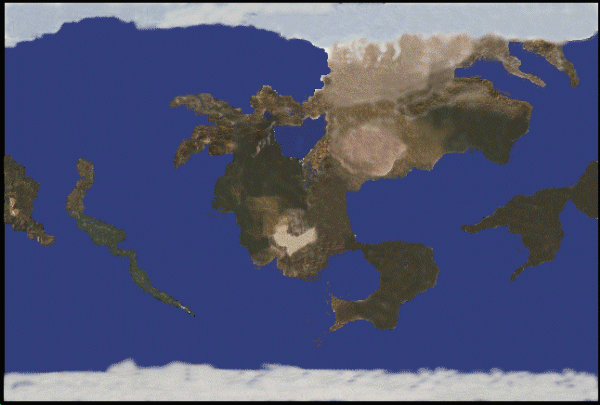 ---
Image ©1998, Paul Cargile. Use with permission.